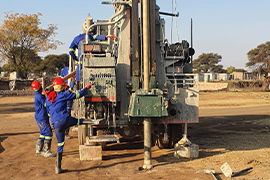 RPMT BOREHOLE DRILLING is a subsidiary of RAPHETHA GROUP (pty) LTD company headquartered in Gauteng, Midrand. Engaged in myriad of drilling activities since 2017. From a modest beginning to what it is today, the company's growth has been phenomenal.
We are one of the leading borehole drilling companies in Gauteng and all surrounding areas. Our core competencies include Water well drilling, Borehole drilling, Reverse circulation drilling, Sonic Drilling, Blast-hole drilling, and rotary drilling services. Our company offers several kinds of solutions in the mining sector.
We have qualified, well trained and skilled team in water borehole drilling, Hydraulics, mechanical engineers, geologists, geophysics, surveyors and field workers. We consider ourselves as one of the best borehole drilling contractors. We consistently strive to reach the elixir of excellence and to satisfying our clients by provide the best borehole services.
Reasons to choose RPMT Borehole Drilling
Thorough project design to ensure a future proof system. We will not just stop when we hit water unlike some competitors.
Pricing designed to suit each individual system as every project is different. With us you know what you are getting for your money.
Fleet of 3 modern drilling rigs with specifically dedicated water and ground source heating borehole rigs.
Full after care service. We employ engineers and technicians to ensure we can support both our customers and those of our competitors for years after the borehole has been drilled.
Fully qualified water treatment specialists. We are able to provide solutions for nearly all chemical water analysis outcomes.
Strong customer reviews on our own website and social media.